Fading-Ex for the lightening of tattoos and PMU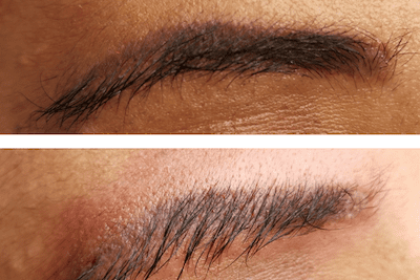 Fading-Ex for the lightening of tattoos and PMU
Already a single treatment (see above) leads to the desired brightening without visible wounds. (Photo taken right after treatment)
No visible wounds! Great results after only a few days! Gentle removal.
(Before After Picture: Already a single treatment (see above) leads to the desired brightening without visible wounds (photo taken directly after the treatment)
Fading-EX is the third removal product from SKINIAL to EX 4 for Body and EX 3 for PMU. We developed it based on the demand from our permanent make-up customers. While in EX 3 and EX 4, the colour on the treated surfaces is completely removed after only one treatment, "Fading-EX" only brightens the surface. The effect is weaker but also more skin-friendly than with EX 4 and EX 3. Fading EX consists of a serum with weak lactic acid with 5% di-panthenol, a nourishing substance.
Fading EX offers the following advantages, in particular for PMU removal:
Bleaching instead of removing
SKINIAL now has products for PMU and tattoo removal and now also for whitening PMU and tattoo.
 You can use it to treat larger areas (e.g. both eyebrows completely and with a single treatment). Especially sensitive and sensitive skin tolerates a treatment much better. Often a bleaching treatment is enough to allow a new PMU to be pricked over it (Cover-Up) visually / aesthetically often unpleasant perceived dots, which are formed with the immediate distance are avoided with the "fading".
For SKINIAL Studios, the training with the new product is free!
SKINIAL, Zug (CH) 1.11.19